Dr. Kim Kutzner
PT, DPT
Physical Therapist
I grew up in McCall, ID, and pursued a unique academic path. At the University of Idaho, I majored in textile design with a minor in dance, graduating in 1995. Later, I shifted my focus to physical therapy, graduating in 2011 from Idaho State University.
My career has been diverse, encompassing classical Pilates instruction and specializing in orthopedic physical therapy. Currently, I work at Treasure Valley Pelvic Health, where I blend my unique background to provide holistic care.
Authenticity Creativity Knowledge/learning Autonomy Stability Work-life balance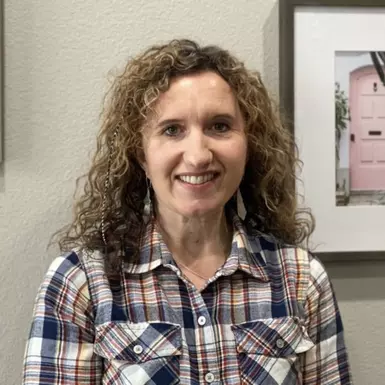 At Treasure Valley, I am a general pelvic health therapist with a strong orthopedic background specialty as a Pilates instructor! I enjoy helping patients connect to their bodies, body awareness, body confidence, and how to move well.
I really like the team energy collaborative supportive staff/owner here at Treasure Valley!
What is Dr. Kim Watching, Reading or Listening to?
Devil in the White City (Book)

Edward Scissor Hands (Movie)

Clerks (Movie)

Pulp Fiction (Movie)
When not working, I enjoy being outside: running, hiking, biking any "art" project: painting, drawing, crafting
"Kim helped me understand how to breathe in my exercise; before, I was holding my breath & causing more issues."
"I appreciate how Kim helps find the source of my problem"
"Dr. Kim helped my body through my pregnancy and the rehab to build strength after the birth of my first child."